Andy Murray knew he was favourite against Tomas Berdych and won in straight sets against the man he also beat in the Australian Open semi-final in 2015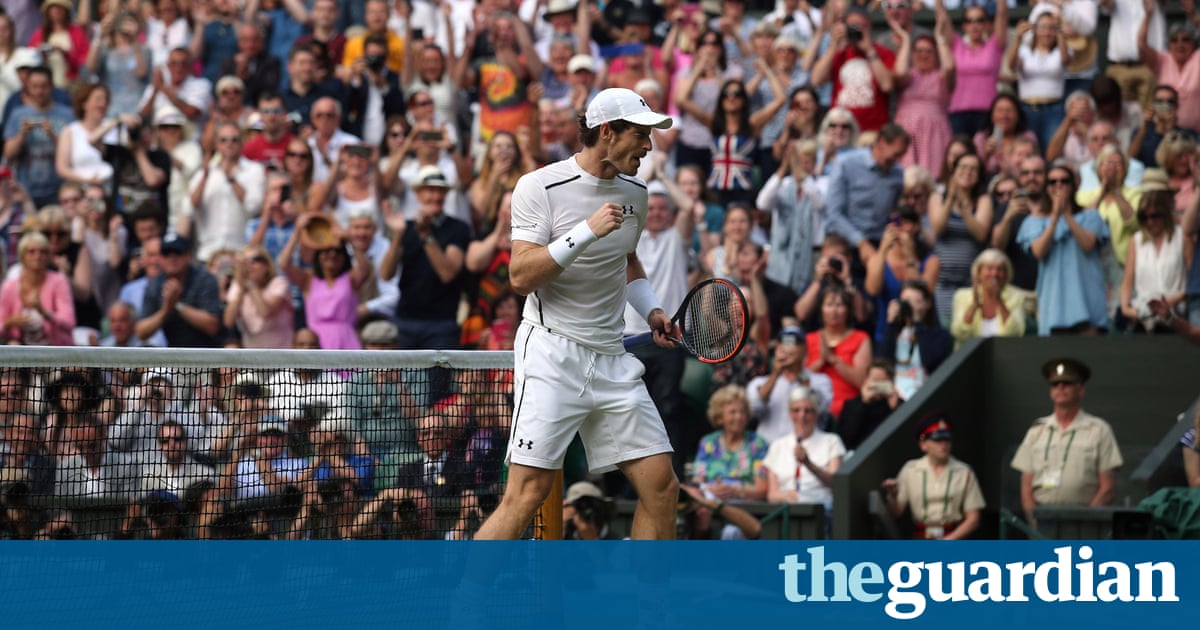 For the second time in three days, Andy Murray found himself following Roger Federer on to Centre Court after a five-set match, and again, then, Murray had the unusual experience of playing the first few games of his match in front of rows and rows of empty seats. But where the atmosphere had felt a little flat during the opening minutes of his quarter-final against Jo-Wilfried Tsonga, this time those who had stayed behind were alive with anticipation. Murray was already fancied to win the title, but with Federer out the odds had just been chopped again.
So for the first time in living memory, the crowd on Centre Court found itself supporting an overwhelming home favourite for the championship. An alien sensation, then, but one which they soon seemed to grow used to. There were no jokes, no cries of Cmon Tim, only earnest roars of support.
But first Tomas Berdych, who reached the final here in 2010, and has been a fixture in the mens top 10 ever since. Overall their head-to-head was 8-6 to Murray, but then Federer had an even better record, 9-2, against Raonic. So his defeat wasnt only an opportunity for Murray, but a reminder that in sport, you can take nothing for granted.
Not that Murray necessarily needed the lesson. Theres been an edge to this rivalry ever since Berdych hired Murrays old coach and friend, Dani Vallverdu. Before that Berdych had also tried to hire Murrays current coach Ivan Lendl. It boiled over in their memorable match in the semi-finals of the Australian Open last year, when Murray reported Berdych to the umpire, and his then fiancee Kim unleashed a string of swear words after Berdych won the first set tie-break.
Murray went on to win that match 6-7, 6-0, 6-3, 7-5. And he had beaten Berdych in all three of the matches they had played since, in Miami, Shanghai and Madrid, all three victories in straight sets, and without a single tie-break. Murray has, of course, been quick and keen to downplay the presss suggestions that there is any lingering animosity between the two men, who once considered themselves reasonably close friends. But there is a suspicion that he is only being diplomatic about it. Those who know suggest that there is no way in hell Murray is going to allow himself to lose to Berdych again any time soon. Least of all when there was a grand slam final on the line, and when, for the first time in his career, he knew he would not have to play either Federer or Novak Djokovic if he got there.
Whatever Murrays motivation, he certainly had Berdychs measure. That was clear from the start of the first set, when he broke Berdychs first service game. Berdych broke back soon after, but after that setback Murray took charge of play. He broke Berdych again to go 5-3 up, and then served out the first set.
By now Centre Court had filled up again, in time to see the crucial moment of the match. Murray later picked it out as the key, key moment. It came when Berdych was leading 3-2. He earned a first break point, which Murray saved with a forehand down the line. But when he then sent a forehand long on deuce, Berdych had another opportunity. This time Murray fought him off with a volley. Finally, after 11 minutes of play, Murray held his serve.
Murray then broke Berdych in the very next game, after he hit a poor forehand into the net. That put him 4-3 up, and from that point on, Berdych never threatened him again. The stats showed that Murray made only nine unforced errors in the match, next to Berdychs 30. That says plenty about how calm he was, and how much control he had. The older you get you never know how many chances you are going to get to play in grand slam finals so you want to make the most of your opportunities, Murray explained afterwards. He said he that he felt his experience had told, that all those matches, the many defeats, against Djokovic and Federer had put him in the best possible position to take advantage of their absence now.
You learn from those matches, for sure, Murray said. Having had those experiences in the past has helped me a lot, playing against some of the best players of all time.
This was Murrays 11th straight win, a run that started last month, at the beginning of Queens. He is looking very hard to stop. There was an idea that being favourite to win the tournament might faze Murray, that the weight of expectation would unsettle him, as it has done so many other sportsmen and women. But that has been utterly debunked. If anything, it seems to suit him down to the ground.
Read more: www.theguardian.com