Jamie Chadwick tells Giles Richards she dreams of following Lella Lombardi into motor racings elite but says she expects no favours en route to the big time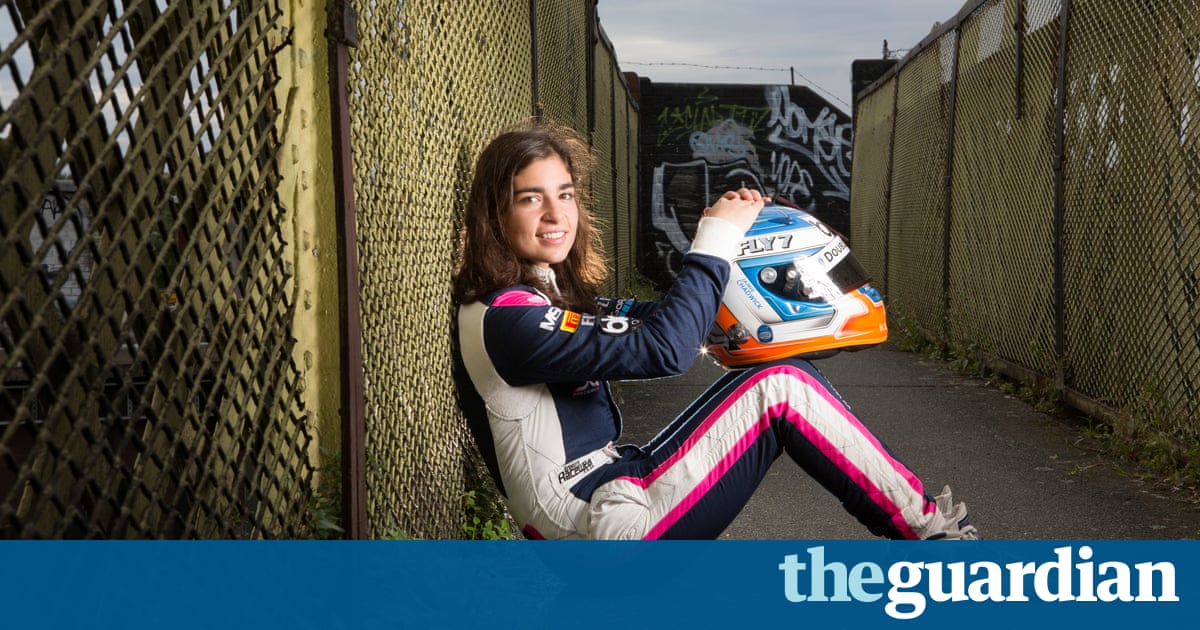 Were a seat in Formula One decided on personality, Jamie Chadwick would stand every chance of becoming the first woman to race in the sport since Lella Lombardi did so at the Austrian Grand Prix in 1976. Making it demands much more than warmth and wit, however, and fortunately the 19-year-old is backing her attempt to end the drought with talent and unwavering determination.
Chadwick sees herself simply as a racer but, much as she would like to, ignoring her gender is impossible in a male-dominated sport. In 2016, the sport's then impresario, Bernie Ecclestone, dismissed women as being physically incapable of driving an F1 car and said they would not be taken seriously behind the wheel.
Chadwick is rightly dismissive of such entrenched beliefs. "It's not based on any fact," she says with resolution. "If I can prove him wrong that's just added motivation."
Having already achieved remarkable success during her short career, and racing for the first time this season in single-seaters in the British F3 championship, neither motivation nor being female has proved a hindrance. "Women can compete equally in motor racing," she says. "That's one of the great things about it. It is physically and mentally tough but women can compete on the same level as men."
She has not expected, nor received, any favourable treatment. "Everywhere I have gone everyone has respected that I am there to do a job," she says. "If I don't do it I get the same bollocking a male driver would get and if I do I get the same praise."
F1 is her goal but make it or not Chadwick has already earned respect. In 2015, she became the first woman – and the youngest driver – to win the British GT championship. Raised in Bath to a family who had no motor sport background, she took to racing entirely by chance. Her brother Oliver, also now a driver, had begun karting and a simple case of sibling rivalry prompted her to try it. She was 13 at the time, old by modern standards.
It proved to be a momentous decision, having found a sport with which she had a natural affinity. Two years later came another step when, in 2013, Chadwick attended the Ginetta Junior scholarship weekend, turning down a trial for the England Under-18 hockey squad to do so. The Ginetta Junior scholarship provides one driver with their first step on the motor sport ladder, and Chadwick describes the experience as the hopefuls were whittled down as like The Hunger Games. But by the Sunday she was victorious – the last woman standing. Two seasons in the Ginetta Junior series followed, the second in 2014 yielding five podiums and eighth place overall. Good enough to be noticed, she was taken on as one of Aston Martin's racing academy squad the following year and offered a drive in an Aston GT4 Vantage with the Beechdean team in the British GT championship that season.
The sportscar series is highly competitive but Chadwick says she felt no pressure and alongside her co-driver, Ross Gunn, took two wins and six podiums to secure the title. Along the way they won the Britcar 24 Hours at Silverstone, Chadwick becoming the youngest winner of a 24-hour race in the process. "Everything I feel through the seat comes out of my mouth to the engineers," she says. "Definitely, I have a natural affinity, I can feel what the car is doing, how much to push it."
Her assessment is backed by the Aston Martin works driver and three-time Le Mans class-winner Darren Turner. "She has got a natural, smooth driving style and a good understanding of what makes a car work and how to make it go fast," he says.
Read more: www.theguardian.com