Crossing the boundaries of musical styles may have become a clich but when you have the likes of Kamasi Washington and Laurie Anderson on hand, it can also offer an innovative and moving experience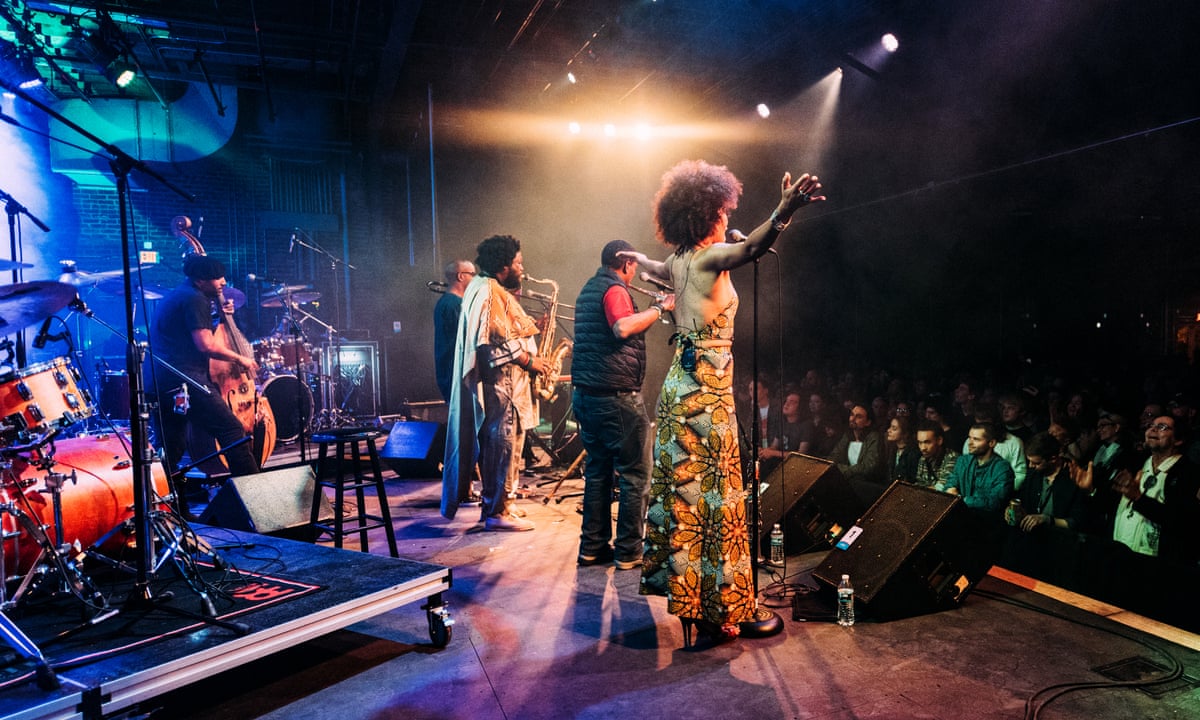 Boundary-crossing and genre-smashing have become commonplace terms. While such formulations are sometimes offered in lieu of having anything specific to say about music, that doesnt mean they are never appropriate. Case in point: the Big Ears festival in Knoxville, Tennessee.
The governing curatorial principle seems designed to take the zeitgeist at its word. While the programmers specialize in niche bookings think avant-metal, a wide variety of jazz picks and contemporary classical music the sheer variety of niches keeps things from seeming too narrow. Big pop stars are not on the menu but variants on popular-song traditions are present each day. And those musical forms tend to share venues with some sui generis icons of experimentalism.
This years headliners were jazz breakout star Kamasi Washington, performance artist Laurie Anderson and the Knoxville Symphony Orchestra (for an evening of symphonic music written by Philip Glass, the Nationals Bryce Dessner and Pulitzer prize-winner John Luther Adams).
Other draws included drone metal auteurs Sunn O))), the contemporary rap adventurists Shabazz Palaces and two wildly different ensembles led by the visionary composer and saxophonist Anthony Braxton. It was announced that indie-rock veterans Yo La Tengo would collaborate with weird-country partisans Lambchop and that both would play sets on their own. Even the artists holding down the early afternoon slots boasted deep histories. After 30 seconds with the programming announcement, I began bothering my editor for an assignment.
Another strength of the festival is its seven different, gorgeous venues from grand, seated concert halls to standing-room clubs with good sound all within walking distance in and around downtown Knoxville. By design, theres too much to take in which makes reviewing the festival a faintly absurd idea. But such a densely packed schedule meant there was always a solid Plan B (or C!) in the event that a show wasnt working, or if one was locked out of a gig that had filled to capacity.
Between Thursday evening and Sundays early morning hours, I caught enough of 15 performances to feel comfortable rendering some sort of critical take. There were half a dozen acts I wish Id seen though with one exception, I wouldnt give back any of the experiences I had. Mostly I hung around for full sets; in a couple of instances I had to run after 30 minutes. Heres what I heard:
Thursday
7pm: Knoxville Symphony Orchestra, Steven Schick (conductor), Maya Beiser (cello soloist)
Id seen percussionist Steven Schick work wonders in bleeding-edge contemporary classical repertoire before, so I wasnt surprised to find him brimming with confidence here. But I hadnt heard the Knoxville Symphony previously. Ill make sure to hear them again.
They established a through-line during their performance of Bryce Dessners meditative-then-lurching Lachrimae. And in Philip Glasss Cello Concerto No 2 (derived from his score for the film Naqoyqatsi), the orchestra communicated a sense of delight when engaging with Glasss ostinatos. (Its easy to hear when players are reading Glasss music too hard the fun drains right out of the music.) In the fourth movement, a trumpeter handled long, exposed lines with grace, right after the entire orchestra had exulted in some loud tutti-chord thrashing. At the outset, star cello soloist Maya Beisers theatrical use of vibrato threatened to obscure some melodic lines, but she corrected quickly, turning in a brooding account of Glasss cello writing in the fifth and seventh movements.
After the intermission, Schick and the orchestra gave an immersive, compelling performance of John Luther Adamss Become Ocean, a symphony-as-natural-world metaphor that spends 45 minutes on a triptych of slowly-building (and then grandly teeming) orchestral waves. Good start.
If you missed out: Find recordings of Dessners Lachrimae here; Glasss Cello Concerto No 2 here, and Become Ocean here.
10pm: Sun Ra Arkestra directed by Marshall Allen
Read more: www.theguardian.com