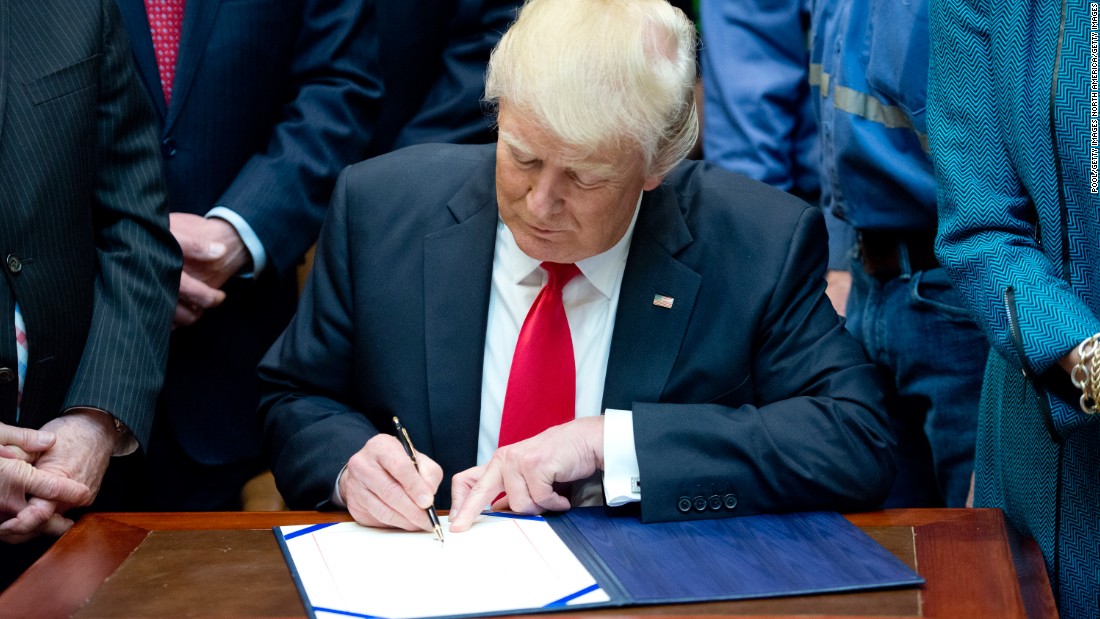 Washington (CNN)The success or failure of President Donald Trump's legislative agenda has become the subject of much debate throughout his time in office.
His major policy initiatives — repealing Obamacare, passing tax reform, an infrastructure plan and more — have all been stalled on Capitol Hill, either because of Republican disputes or Democratic obstruction or both.
More than six months into his presidency, the number of bills Trump has signed stands at 43. The majority have been passed through the Congressional Review Act, which allows Congress to roll back regulations imposed by the executive branch, and are aimed at dismantling former President Barack Obama's legislative legacy.
In all, two of the laws has created a new policy, fifteen have rolled back rules and regulations issued under Obama's administration, eight had to do with designating something or working to create a new initiative, six changed or expanded existing legislation, and 12 were related to government funding or operations.
This resolution rolls back a rule issued by the Department of Labor under President Obama, which said that employers must make and maintain accurate records of work-related injuries and illnesses, and those who did not could be cited within five years of the violation. This repeal now re-enacts a six month statute of limitations on violations.
This legislation voids an executive order Obama signed in August 2016 that looked to protect government contractors by requiring employers to disclose labor law violations, including wage theft, unsafe working conditions and hiring discrimination.
This legislation nixes an Obama-era regulation meant to protect federal waterways from coal-mining waste.
This measure rolls back an Obama-era rule that required "resource extraction issuers to disclose payments made to governments for the commercial development of oil, natural gas or minerals."
This law authorizes the State Department to rejoin the Bureau of International Expositions (BIE) "to promote public diplomacy, global branding, and tourism to the United States."
This resolution approves a location on the National Mall in Washington, DC to create a memorial to Gulf War veterans.
This bill adds National Vietnam War Vetarans Day (March 29) as a holiday upon which the American flag should be prominently displayed.
This legislation renamed a VA health center in Pennsylvania after Abie Abraham, a World War II veteran.
This act aims to promote the advancement of women in NASA and the STEM fields through a number of educational and mentorship initiatives.
As Trump said when he signed this legislation, it "enables the National Science Foundation to support women inventors — which there are many — researchers, and scientists in bringing their discoveries to the business world."
This law amends the Homeland Security Act of 2002 in relation to DHS efforts to defend "the food, agriculture, and veterinary systems of the United States against terrorism and other high-consequence events that pose a high risk to homeland security."
This law protects federal employees from retaliation for refusing to violate a federal rule or regulation. It expands upon the protections of the Whistleblower Protection Act of 1987, which shields employees from backlash for refusing an order to violate federal law.
This law amends the Homeland Security Act of 2002 and seeks to improve management of the Department of Homeland Security's vehicle fleet. It authorizes the DHS undersecretary for management to oversee the fleet and requires regular analysis and evaluation of it.
This law amends the Omnibus Crime Control and Safe Streets Act of 1968 to prioritize the hiring of veterans in the Community Oriented Policing Services (COPS) program.
This law requires the General Services Administration (GSA) to implement regulations that allow for reimbursement for travel using "innovative mobility technology" such as Uber, Lyft or bike-share programs.
This resolution aims to improve National Oceanic and Atmospheric Administration (NOAA) research methods and prioritizes "weather data, modeling, computing, forecasts, and warnings for the protection of life and property and the enhancement of the national economy."
This law allows new members to be appointed to the Board of Directors of the Office of Compliance in order to replace members whose terms expire this year.
This bill authorized funding for NASA for "exploration, space operations, science, aeronautics, space technology, education, safety, security, and mission services, construction and environmental compliance and restoration, and the NASA Inspector General."
This law allows Government Accountability Office (GAO) to obtain federal agency records for the audit, evaluation, and investigative purposes.
Read more: www.cnn.com