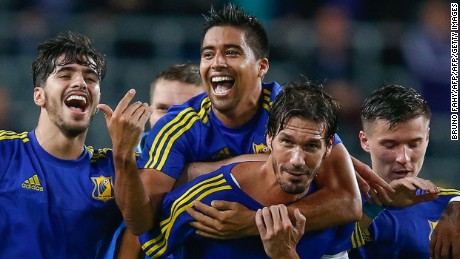 (CNN)Over a thousand kilometers separates Rostov-on-Don and the Russian capital Moscow — but in terms of football pedigree, it might as well be light years.
So when FC Rostov, a team usually fighting to avoid relegation, finished just two points short of champion CSKA Moscow in the race for last season's Russian Premier League title, it sent shock waves through the country's soccer elite.
The fairytale story centers around a former Rostov player turned manager, Kurban Berdyev, who inspired his squad to overcome the club's crippling financial problems to finish above five-time Russian champion Zenit St. Petersburg and claim a place in Europe's lucrative top competition, the Champions League.
Destiny
On Tuesday, Berdyev will be in attendance at the 75,000-capacity Allianz Arena to see his side, led by newly-appointed coach Ivan Daniliant, face a star-studded Bayern team that has won its national league 26 times.
Rostov will then host last season's losing finalist Atletico Madrid and Dutch champion PSV Eindhoven at its aging, 16,000-capacity home ground, but the club is awaiting the completion of its new stadium. Being built for the 2018 World Cup in Russia, the $310 million, 45,000-seat facility
is due to be finished by the end of this year.
Such an upgrade elicits a feeling in Rostov that this is what everyone has been waiting for.
"The home games will be a big thrill for everyone," Rostov assistant coach Dmitri Kirichenko told reporters after the draw.
"The excitement will be incredible. I am sure the fans will help us to get positive results. We have a really lively atmosphere at the stadium in Rostov-on-Don, and the fans deserved this."
Read more: www.cnn.com